Jiangsu.NET Score


| | |
| --- | --- |
| Location: | Yangzhou |
| Address: | 1 Pingshantang Road, Yangzhou, Jiangsu 225009 |
| Fee: | 30 Yuan/ticket in off-season (December to February, July to August); 45 Yuan/ticket in on-season (March to Juny, September to November). Senior: half price, children under 1.2 meter: free entry. |
| Operation: | Regular open: 7:45 – 17:00, Monday to Sunday; New Year Eve Bell-knoking Event: December 31; Jianzhen Festival: April to May. |
| Route: | Bus No. 22, or Tourist Bus No. 1, 2, all to the temple; all cab driver know the temple. |

---

| | |
| --- | --- |
| Phone: | 86-514-734 0720 |
| Email: | |
| Website: | |
Daming temple was initially erected in 457 to 464 A.D of the Southern Song Dynasty. During the changes of dynasties, the temple had several name changes and were demolished at least three times by fire or by political chaos. In 1979, the temple had a major renovation sponsored by two levels of authority: municipal and provincial governments. The most glorious time for Daming was the Tang Dynasty during which one of the greatest Buddhists in China's history, Jian Zhen, was a monk of the temple. He was one of the most respected Buddhist monks in Japan as well. During 742 – 748 A.D., after numerous failing attempts to navigate across the East China Sea to Japan to disseminate Buddhism, the monk was blinded by an infection. In 753 A.D., the blind Jian Zhen finally landed at Kagoshima, a city of Japan. In the subsequent 15 years, the monk traveled in many cities of Japan, introduced Chinese religious sculpture and founded a school and a private temple until his death in 763 A.D. The temple conserved many Buddhism sculptures and relics left by Jian Zhen. In addition, many celebrities have visited the temple, including Emperor Kangxi and Qianlong in Qing Dynasty, and left numerous historic relics behind them. The temple is one of the greatest places in Yangzhou to visit and has been listed with the highest national 4-AAAA tourist ranking.
Comments
A great historic site with 4-AAAA national tourist ranking. This temple is a favorite location for Japanese touriests. Recommended.
---
Back to home page
Advertisement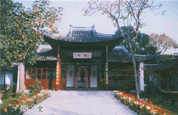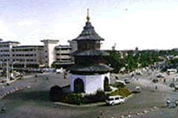 Advertise
Web Services
Live Poll
---